Startup Visa Q&A with Mikhail Arsentiev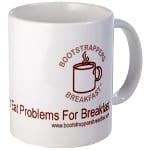 Mikhail Arsentiev has been a regular attendee at the Silicon Valley Bootstrappers Breakfasts since January 2019.  He is both an immigration attorney and a technology entrepreneur so I think he brings a useful perspective to your question about the startup visa.
A question came up recently about the US Startup Visa program so we sat down for a detailed Q&A to cover the most common questions that entrepreneurs have.
Q: What are the most common visas available for startup founders? What are the benefits and restrictions for each?
This is a very good and broad question. It'd take at least a semester at a college or a law school to go over in detail and to understand the pros and cons of each visa. Generally, the most common are:
L-1A visa and L-1B visa:
L-1 visas are available to employees of an international company with offices in both the United States and abroad. The visa allows such foreign workers to relocate to the corporation's US office. Also, an international company could assign their high level manager to the U.S. to start a new branch/subsidiary/affiliates/sister company. Their spouse and children could also come to the U.S. to work and/or study.
However, the L visas are only available to an employee who has worked abroad for the company for at least one continuous year within the previous three prior to admission in the US.
E-2 Investor visa:
The E-2 Investor Visa allows an individual of a treaty country to enter and work in the United States when investing a substantial amount of capital in a U.S. business. Their spouse and children could also come to the U.S. to work and/or study.
However, the E-2 visa is available only to citizens of certain countries. See U.S. Department of State's Treaty Countries for a current list of countries with which the United States maintains a treaty of commerce and navigation.
H-1B visa:
This classification of visa applies to people who have a bachelor or higher degree to work in a specialty occupation which is related to their major. Their spouse and children could also come to the U.S. to work and/or study.
However, due to the limited quota of H-1B, candidates have to run for the H-1B random selection process, and they can only submit the H-1B petition if they get selected.
B-1/B-2 Tourist Visa:
B-1 and B-2 visas are generally referred to as "B visas", and they are the most common types of visa issued for a wide range of uses in the United States. The B1 visa is issued mainly for short-term business trips, while the B-2 visa is issued mainly traveling for tourism purposes, which allows the visa holder to travel to the U.S. for either business or tourism purposes.
However, the B visa holder CAN NOT work and/or get paid in the U.S. and the maximum of stay is 6 month (extension of stay may apply).
New International Entrepreneur Parole:
The "Parole" is similar to a visa, which allows an individual to get into the U.S. Under the International Entrepreneur Rule (IER), Department of Homeland Security may use its parole authority to grant a period of authorized stay, on a case-by-case basis, to foreign entrepreneurs who demonstrate that their stay in the United States would provide a significant public benefit through their business venture and that they merit a favorable exercise of discretion.
The entrepreneur who is granted parole will be eligible to work only for their start-up business. The spouses and children of the foreign entrepreneur may also be eligible for work and/or study in the U.S.
Q: How to visit the U.S. for brief meetings with clients or investors?
The B1 visa is issued mainly for short-term business trips, which perfectly matches this purpose. Also, The Visa Waiver Program (VWP) enables nationals of 40 participating countries (including all the EU countries and others) to travel to the United States for tourism or business for stays of 90 days or less without obtaining a visa. VWP travelers are only required to have a valid authorization through the Electronic System for Travel Authorization (ESTA) before traveling. Travelers are screened at the port of entry into the United States and are enrolled in the Department of Homeland Security's US-VISIT program.
Q: How to bring co-founders or employees from abroad?
There are multiple ways to bring them to the U.S., such as: H-1B, L-1A, L-1B, E-2, O, and etc. The specifics matter a great deal and this is worth a consultation with an immigration attorney to discuss the situation in detail.
Q: What is the process for bringing spouses or girlfriends of startup founders or employees to the US? 
Almost every visa has a "dependent" category but only a spouse and children qualify.
Q: What if things don't go as planned? Can the startup founders keep staying in the U.S. to work on different projects?
The short answer is No. Especially, in regards to the L-1A visas. However, it really depends on their circumstance. This is another situation where you should consult with an immigration attorney to discuss your case in detail.
Q: Can founders work for other companies to make money?
Again here, a short answer is No. But it may be possible that additional employment can be structured properly: specifics matter and you should talk to an immigration attorney before starting a part-time job.
More about Mikhail Arsentiev
Mikhail Arsentiev is a graduate of the George Washington University Law School in Washington, DC, Mikhail has spent several years working for the leading Washington, DC corporate immigration law firms where he had a privilege to serve the world's leading information technology companies before starting his immigration law practice. With a deep understanding of the challenges clients face and the struggles the outdated law industry exhibited, Mikhail has started Skylex, a platform aimed at providing a 24/7 access to immigration services around the world.
Related Blog Posts
Other Bootstrappers Breakfast members have found these blog posts useful: