We reached out to Bootstrapper Breakfast attendees to share lessons learned and Rosanne Clementi from the Tampa Bay chapter agreed to sit down with us for an interview.
Advice from PadGoRound's founder Rosanne Clementi
Below is Austin Rettinhouse's interview with PadGoRound's founder Rosanne Clementi
Austin: For readers, can you briefly introduce yourself and what you've been working on?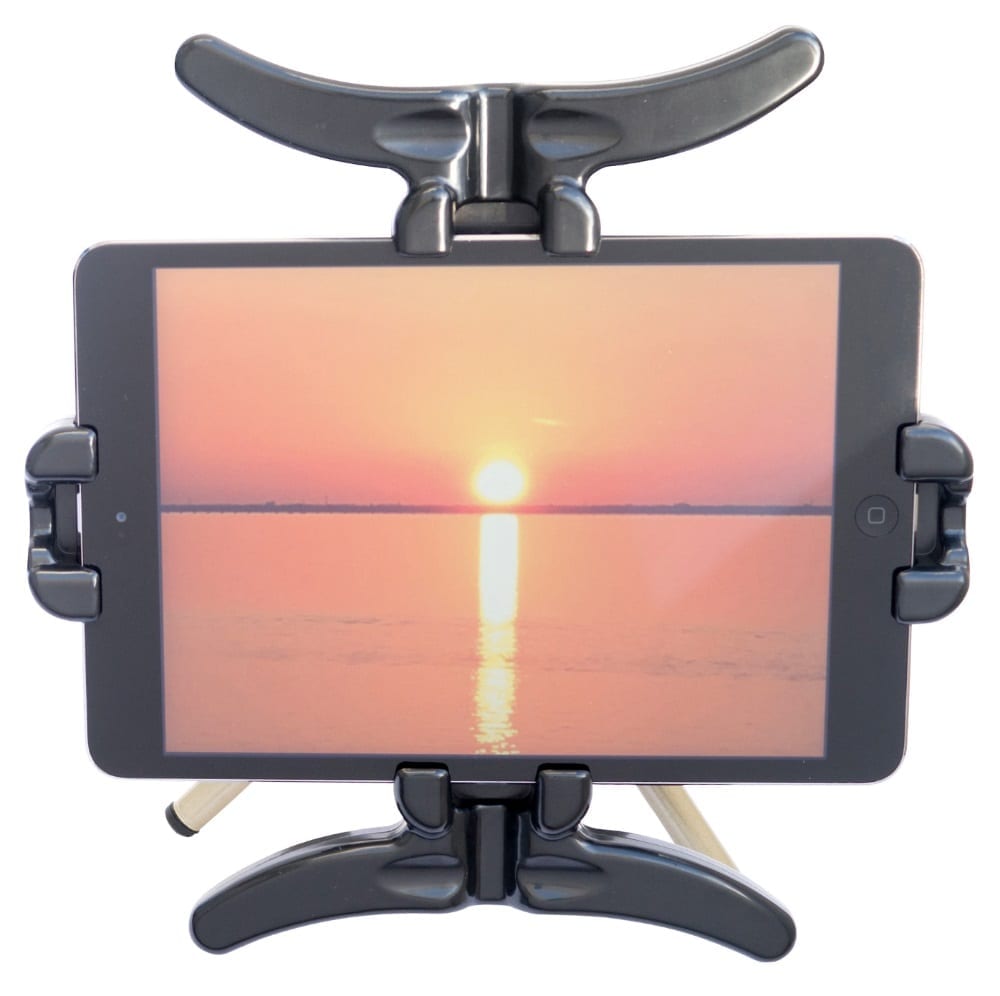 Rosanne: Sure! My name is Rosanne Clementi, and I am the developer of the PadGoRound. The PadGoRound is an adjustable tablet holder that I have been working on for around the last three years. The design of my product is unique in that it has handles that adjust to most popular tablets; special thumb nuts in place of screws for greater accessibility to tighten the handles. There are currently two sizes—a large model, and smaller model., The large model can be easily adjusted to accommodate most popular tablets between 6.75" x .3" and 9.9" x .3″, with the smaller size adjusting for models between 4.5" x .3" and 7.75" x .3″.
As the developer, how did the idea for the PadGoRound first appear?
The idea was born out of necessity. I have arthritis in my hands and holding even the smallest model of a Kindle or iPad for short periods of time is extremely uncomfortable. When I searched the market a few years back for a tablet holder that would fit my needs, I found a handful of options that were mountable in a variety of ways. What I found inconvenient about these models, however, was the lack of mobility and accessibility that you are faced with when you mount the device to a surface.
The PadGoRound, is completely adjustable in a way that allows the user to mount onto a surface, but also hold the device in their hands. I personally feel comfortable using the PadGoRound one-handed—which is not something that I feel I could accomplish with the other models of tablet holders on the market three-or-so years ago. My device is also has loops on the base to attach a lanyard which allows for greater mobility and secure handling. There is even a 1/4″ – 20 adapter on the back of the product that allows you to attach nearly any camera accessory on the market and use it with your PadGoRound.
In short, I couldn't find anything like it on the market, and I still feel that it is a unique product looking at today's market.
What obstacles did you expect going into the process, and which caught you by surprise?
As far as obstacles that I expected to face from the get-go, I feel these assumptions came from outside sources telling me what they felt I should be doing differently. One of the more prevalent sorts of advice that I received was that I should been conducting more market research before diving into the production of the models. Another big issue that I find hurts many is entrepreneurs being undercapitalized—which I can admit to being greatly undercapitalized throughout the PadGoRound's development process.
My earliest surprise definitely began in the prototyping phase when I had great difficultly producing a model that would hold-up on its own. The 3-D printed prototypes were too brittle, leading me to eventually take the jump and have a pricier mold made for both sizes. Looking back, not having a tangible model to show potential investors also contributed greatly to being undercapitalized.
I also really believed in the reach of social media and thought that I would be able to get my message out easily online. While this might have been the case a few years ago, new algorithms and the monetizing of social media has made it almost very difficult to "go viral". I have put my faith in Facebook ads more times that I can recall but there is simply no predictable formula. There is no way to determine how much money to throw at it to reach my desired audience, which has been pretty frustrating.
What approach did you take/are you taking to solve these problems?
To be completely honest, I am still facing issues regarding funding and social media exposure…but I'm not giving up! I do have another company, and my original plan was to transition into retirement through the PadGoRound. At this time it is not feasible for me to leave my position at my current company to devote full-time to the product and these issues.
Many say I'm not hungry enough—and maybe that is it. I've thought about devoting myself to the PadGoRound countless times, but I have so much debt from the process thus far that I have not been able to take the jump yet. Not to mention, I refuse to give up on this product, so I want to remain financially stable long enough to see it succeed.
Can you think of one or two lessons that you've learned to share with hopeful developers/entrepreneurs?
Yes. First, make sure that you are constantly marketing, and also that you have adequate capital. Above all else, have a burning desire to see the process through till the very end.
And, of course, be prepared to devote a proper amount of time to the success of your product. This process does take time, and a lot of it.
Is there any prior experience or a particular drive that would benefit aspiring developers/entrepreneurs?
Go to as many incubator events as possible. Find what is available in your area and try to get people excited about your ideas before you dive head-in. These are lessons I have learned "the hard way", and I feel that everyone can benefit from them.
People will look into your eyes and say, "this idea is wonderful", but still be reluctant to invest. Many times, during this process I may have been a little too naive thinking that Go to as many incubator events as possible. Find what is available in your area and try to get people excited about your ideas before you dive head-in. These are lessons I have learned "the hard way", and I feel that everyone can benefit from them.
People will look into your eyes and say, "this idea is wonderful", but still be reluctant to invest. Many times, during this process I may have been a little too naive thinking that investors and consumers would buy-in if I built the product. The truth about today's market is that it is constantly changing, and what is hot today could be gone tomorrow. We don't even know what technology will be used in the very near future, let alone what consumers will want to accompany this new technology.
Given this fast-changing nature of the market, I feel that a great skill that is essential is being able to stay one step ahead of trends in technology. Even learning to recognize the direction that technology is moving will really give you a "leg up" in the industry.
A lot of people have also turned to developing apps—largely because they are cheap to produce, and there is also no wait for outsourcing models, etc.
My advice to those deciding to develop apps is that can be tough. Your idea is a single fish in a pool of billions. If you can prepare adequately beforehand, it will be easier, but still tough.
In regards to your work, What development, event, or lesson since you started has had the most impact on the original plan for the PadGoRound?—and has your plan changed in response?
My original plan is in a constant state of movement and changing. I feel that this is to be expected given the fast-changing nature of the market. When I first started, there were hardly any tablet holders on the market, let alone those with features as unique as the PadGoRound. I saw potential in the market, and I really didn't want to be "that person" who kicked themselves for not pursing my idea. At the same time, I also refuse to kick myself for where I am now. When I first started, I truly believed that I had something unique—and I still don't see anything like it on store shelves. I am constantly looking through publications and magazines for possible products coming onto the market that the PadGoRound be a great fit for. I see hope for my product, and I feel that it is important not to beat yourself up, and to never give up.
How has Bootstrappers helped throughout this process?
When the charter of Bootstrappers Breakfast started in the Tampa Bay area, I thought that it was a wonderful idea. I was even able to present the PadGoRound at one of the Bootstrappers events.
I really do try to attend as many events as I can to help others going through a similar situation. Even if I don't have all of the answers yet, I think we all find solidarity in knowing that others are going through a similar situation, and it is a really great opportunity to learn. I have really enjoyed my Bootstrappers experience thus far, and actively try to make it to events whenever I can.
What's next for you?
Plugging away at the moment. I have been in contact with someone who has a manufacturing business for Apple products, and he has expressed interested in purchasing my inventory to develop. I have learned the hard way that, while the PadGoRound is a "hot" item for me, to others it may be a low priority. There have been long waiting periods for something "exciting" or share-worthy, but I have learned to always be patient when it comes to business.? Anything exciting in the works to share or promote?
Any parting words of wisdom, advice or humor?
I'm an eternal optimist. I believe that there is a prince out there who is interested in my product, and refuse to kick myself and give up until we meet. Don't be afraid to put yourself on display and jump into a scary situation. On any given day, at any given time, in any given place, you never know who you are going to meet. If you have the drive and the fire to stand by your idea—even if that means learning from some setbacks along the way—you will kick yourself for not at least trying. So, try!