A lot happening in the next six weeks. Two very experienced speakers are coming to Lean Culture: David Telleen-Lawton in June and Mary Sorber in July. In addition our focus in July is on using the Lean Canvas to model your startup.
Roundup of Events in June/July 2018 for Bootstrappers in Silicon Valley
Week of June 25: David Telleen-Lawton at Lean Culture and Our Regular Roundtable at Red Rock
"The scientist is interested in the right answer, the engineer in the best answer now."
H. Q. Golder
The entrepreneur is interested in the "good enough" now, letting larger firms wait for the perfect.
Bootstrapper Breakfast Theme for July 2018: Using the Lean Canvas to Model Your Startup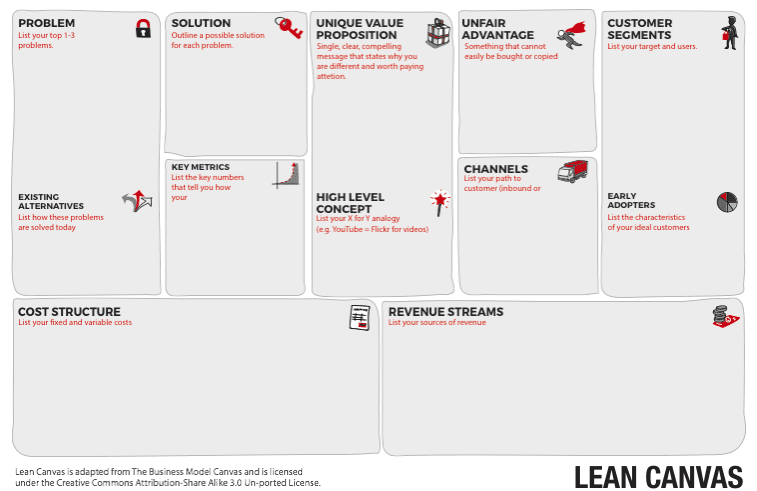 July is Lean Canvas planning month. As a short exercise at the breakfast, entrepreneurs will review their lean canvas with the group. We will share how to fill it out and take advantage of it. It's not a requirement that you fill out the complete canvas–in fact if it's your first time it's recommended that you just focus on Customer, Problem, and Existing Alternatives. Attendees will have to chance to compare notes on their plan and get feedback. Here are three ways you can fill out a Lean Canvas:
For some background on the Lean Canvas see Ash Maurya's "Why the Lean Canvas vs. Business Model Canvas"
Here are are July Breakfasts:
Problem Exploration for Lean Startups: How Entrepreneurs Can Think Like a Researcher to Improve their Effectiveness
"Questions give data meaning: staring at data until patterns emerge is just another–popular–way to set money on fire."
Erika Hall in "Dig in the Right Spot"
This is a great insight. One term for staring at data until patterns emerge is apophenia, a term coined in 1958 by Klaus Conrad who defined it as "unmotivated seeing of connections accompanied by a specific feeling of abnormal meaningfulness." An epiphany is when you see an underlying connection between different experiences or observations, an apophany is when you think you have had an epiphany but in reality you have incorrectly imposed an order on a random connection of data. If you have had one too many apophanies you may find the July Lean Cuture briefing by Mary Sorber a welcome antidote.
Overview: So you have an idea, what next? Learn techniques that qualitative researchers use for more effective interviews that uncover deeper insights about customers and market needs. Attendees will leave with a better understanding of how to diagnose whether prospects have a problem and if they view your product as a potential solution.
We are fortunate to have CJ Lipe of Adminologist.com as our coordinator for South Bay Bootstrapper Breakfasts, she provides contract administrative support for startups and executives, she can be reached at 510-410-5285
Warm Regards
Sean Murphy, SKMurphy, Inc.  408-252-9676
Recent Blog Post: Superstimulus: Refining Online Interactions Into Digital Heroin