Here are my notes from the Tuesday July 19 Bootstrapper Breakfast in Sunnyvale.
Bootstrapper Breakfast notes from Tue-Jul-19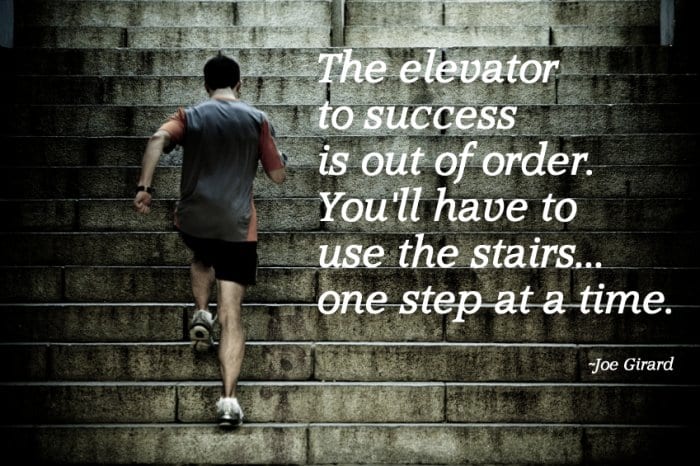 Q: I don't want to be one of those people who is constantly having to hustle for business.
A: The elevator to success is out of order; you will have to take the stairs. (with apologies to Joe Girard).
+ + +
It's OK to commit to an evaluation or exploration period of a few months in a new business: give yourself enough time to talk to 30 or 40 prospects and see if you can close some business before a deeper commitment, but don't ask yourself every morning–or even every Monday morning–if you are on the right track. It will burn you out. Two other ways to look at this:
You can't brake when your car is in the air. Once you place your bets and they spin the wheel you have to wait to see the results.
Once you plant your seed you have to water them and give them time, you cannot dig them up to see if they have sprouted or you will kill them.
+ + +
Before investing in automating a task make sure you can sell the result several times. It's not useful to get good at something you can only sell infrequently.
+ + +
One way to think about market exploration is to look at the problem from your prospect's perspective: how would they look for your product or service. Who do you find when you look at it that way?
+ + +
Excellent trademark search engine available on www.uspto.gov
+ + +
E-Myth Revisited by Michael Gerber is a good book for bootstrappers, it identifies three key roles or functions in a company
technician or expert who develops and refines a practice that constitutes a core competency of the business
manager who manages and orchestrates the set of practices needed for the business to succeed
entrepreneur who understands how to find opportunities for the business and scale it
See also "Entrepreneurial Focus: Right Layer, Right Problem, Right Time"
+ + +
Just like the iron triangle of projects:
on budget,
on time,
good quality
you get to pick any two. There is the iron triangle of business models
fun,
educational,
lucrative
you can only pick two. Be careful of picking fun and educational because what you then have is a hobby: pick boring or grinding over losing money.
+ + +
Photo Credit: On Startups "The Elevator to Success Is Out of Order"