Edwin Padilla, founder of Powerball Technologies, Inc. gave a briefing on "Launching a Business While Working Full Time" at the Aug-12 Bootstrapper Breakfast in Windsor.
Edwin Padilla: Launching a Business While Working Full Time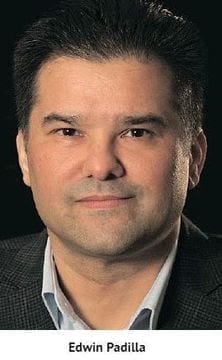 Powerball Technologies Inc. was founded in 2013 which has grown to become a world class technology company in the AR/ VR space and is transforming how furniture is purchased. Powerball Technologies Inc. developed the leading augmented reality 3-D commerce platform for the N.A. furniture and interior design industry. They boost sales for furniture and interior design firms by bringing furniture products to 3-D life. Their Ög 3-D commerce platform allows users to explore their favorite furniture piece online in full interactive 3-D into their own home space in real-time. The furniture is brought to life in 3-D photorealistic perfection and visualized in the app. Powerball Technologies Inc. is a proud member of the Downtown Windsor Business Accelerator.
My Experience with Managing Another Job and a Business Start-up:
Tne common definition of an entrepreneur is an individual who rather than working as an employee starts a business and assumes the risk and reward that comes with the business venture.
This simple definition is not what an entrepreneur is to me. Especially early in a business start-up, another job will probably be critical to maximize the chances of success in the business start up. It will likely help minimize the risks with a new business and help jump-start the enterprise value creation process.
Juggling both a job and business is extremely difficult. The demands on your time, money and energy are like nothing else.
Here are a few tips that might help:
Tip #1: Assume it will take much longer than you think. Simply, you don't know what you don't know and getting to the point where your business is generating positive cashflow or sufficient cashflow to sustain employees is not an easy task. It will take much longer than the typical (optimistic) entrepreneur thinks it will
Tip #2: Line-up personal credit before you leave your job. Increase your limit on credit cards, line of credits, overdraft, etc. while you have a stable income. Business income is notoriously bumpy and you will likely need your personal credit to smooth out the bumps in your business income. However, you won't likely be able to get the credit you need then. Think ahead and line-up the credit while you have the other job.
Tip #3: Set your priorities. As mentioned above, the demands on your time, money and energy will be overwhelming. You will not have enough either and you will have to set priorities and make sacrifices. For me my family and business are the most important things and I've had to sacrifice just about all else to be able to maintain both through this challenging time.
Tip #4: Consider the other job in the right light. It is easy to blame your job for holding you back but you must consider it as a blessing not a curse. This is allowing you time to figure out your business and purse your dream.
Tip #5: Plan your days. Working 36 hours straight might be impressive but it is counter productive overall. It is the consistent daily effort (focused on key priorities) that add up and help create value and accomplish things.