Going Bedouin was a term coined by Greg Olsen in 2006 for relying on leased services and for any element of corporate that could not fit in a backpack.
Going Bedouin / Co-Working Becoming the Default
"Going Bedouin" was a term coined by Greg Olsen in 2006 in response to his experience launching two startups a decade apart:
A technology startup begins in a state of simplicity and focus – some ideas, a few people and little else to get in the way. As the business grows, however, sources of complexity and distraction seem to appear from every direction.

The source I found most surprising, (when I last helped start a software business back in '96), was the operational overhead that came with setting up an office, which continued to grow as we got larger. Before we knew it we were dealing with real estate leases, leased-lines, routers, VPNs, servers, workstations, firewalls, DMZs, UPSs, telephone systems, voicemail systems, email systems, web servers & website management software, accounting software, sales & marketing software, software development software, groupware, IT support staff, attorneys, and many other things – none of which were directly related to our core business. The VP of Marketing "had to" spend numerous hours looking at color swatches to select the "right" furniture. While still a small company, an office move (within the same building) required weeks of planning, dedicated staff, and days to complete.

I remember longing wistfully for the days when the company's infrastructure fit into my backpack.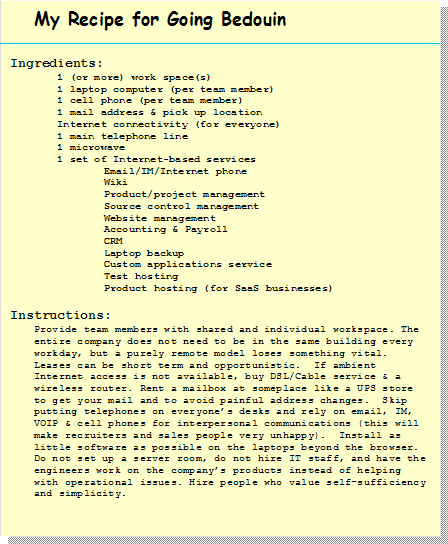 I was reminded of this when I read a recent announcement "Betahouse is expanding"
Founded in April 2007, Betahouse is Boston's longest running coworking space. We value community first, and our community consists of early stage startups, entrepreneurs, developers, designers and other creative types working in or around technology. But really, anyone who's awesome and would add something to the space is welcome. We've had DIY biologists, food and culture writers, you name it. The core is definitely tech startups and independents though.
It's also interesting to see VC's get into the co-working / incubator act. For example Polaris Ventures now runs Dogpatch Labs locations in three cities:
Cambridge, MA (222 Third St., 4th Floor)
New York, NY (36 East 12th Street)
San Francisco, CA (Pier 38 off Embarcadero)
Related Blog Posts